4G/LTE Industry News
Africa Now Fastest Growing Cell Phone Market in the World!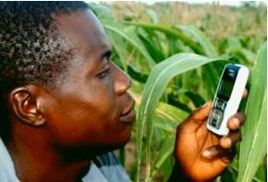 One thing that really hits you when visiting the poorer parts of Africa, is the prominence of mobile phone usage. At first, this technology that you associate so closely with the eighties 'yuppy' culture seems completely out of place here.
But over the last few years, the penetration of mobile phones into the populations of Africa has been astounding. Africa is currently the fastest growing cell phone market in the world, and it is second only to Asia. A recent report from the World Bank stated that the continent has more than 600 million subscribers.
This rapid increase in mobile phones usage could be down to the shortage of fixed phone lines in the continent overall, especially in rural areas far from the bigger cities. Whilst smartphones are increasing in popularity, the majority of cell phones on the continent are still older and more basic models, but even these have significantly better general communications ability than phones from even a few years back. Most have internet access and it's now common to see people checking their Facebook pages seemingly in the most unlikely places.
We have always known that access to information has been important to citizens in developing countries. Companies and individuals are leveraging off this and are using innovative ways through interaction and engagement, to connect with people. This connected citizenry use mobile text services like WhatsApp, BiNu or Saya, transfer money and pay for goods via mobile wallet services. They access health information and services, and look up valuable agricultural market data.
It's easy to view Africa as a huge technological wasteland, but the truth is significantly different. African countries in general are climbing the good governance ratings with Nigeria now challenging South Africa for the highest GDP. These new thrusting business centers need good communications over wide areas, and the service providers aren't slow in realizing the number of subscribers clamoring for their services. Maybe it'll take a few years for the type of demand for mobile services we see in countries like South Korea, but all bets are off on where Africa will be in five years time.